---
Highlights from UKASTLE 3 Yorkshire thread:



Bad news. Well, terrible news in fact.

The Leeds PFI has got to Austhorpe Lane and they are very efficient. The old concrete columns with top entry Beta 5's on are going for some Iridium's on columns twice as tall. All in a day, the new columns have lanterns on. Will let you know if the old ones hang on to light another night.

It's only a matter of time till Austhorpe Road and the residential areas get done now.



B6114 to Elland has Arc replacements replacing the MA's whcih are currently needing to be replaced. The coulmns are indeed being power-fed to the Arc's rather than the MA's.



RESULT  
Southern Electric called me today. They will let me have some of the lanterns, providing they are not used commercially.

I asked for 3 top entry Beta 5's. They could drop them off at my house, or I will go to the depot and pick them up. They were re-lamped this year so what's the odds on them leaving the bulb in!!!!

Also, shall I bung them some cash as a goodwill gesture or just take the lanterns? Am thinking that if I bung them £25, they might be more willing to save the more rare lanterns for me. (The one in Topps Tiles if you remember.)





I gave £20 to the company who saved me my Turtles but they said they'd give it to charity - I couldn't really argue with that, it would have been great if it could go to the workers who carefully removed them.



Yep Stelmer, offer them a token £20 or so either for them to donate to charity or their "tea boat" fund. I offered to do the same with Wiltshire over the Beta 3 but they didn't take up the offer...

The Gamma 5s that were privately owned, required a bigger donation, but we wouldn't have got them without it.

When I visit my local depot I always leave a donation for their troubles.. Never does any harm and hopefully they will think about you in the future. Also proves the point that is is always worth asking...

They may remove the lamp due to WEEE - Wiltshire did on the Beta 3 and all the wiring. If you can get to the depot it might be better - there may be other stuff there...



Ta muchly.

I'll bung them £20 for their troubles. Was thinking that i'd have more of a chance of keeping the bulbs if I collected them as they got them off the columns...  




I were thinking doing the same when i pop up to the York depot, i'll wait till Chris has notified us if there is any more goldie oldies from York.



Yeah, I'd slip them some money too. The york depot keeps the lamps, which is handy.

When you're at SEC, Stelmer, it may be an idea to ask if they know what else is likely to be coming down. As I would like a Revo Solumbra post-top at some time, a REALLY old Beta 5 (one with a square bowl, normally white, of which there are still a few in areas of Leeds), and possibly anything else interesting that I think of later.
Some of the Highmast columns will be coming down in the future at an unknown date too.

[quote=Stelmer"]There's a deep bowl, square beta 5 at the top of my street. also the electricians are wiring the new columns in on Austhorpe Lane.

I'll see what I can do. The PFI website http://www.lightsoninleeds.co.uk/Public ... edule.aspx says they've done Roundhay which had quite a few old lanterns too. They might be at the depot.....

Also, it says that Crossgates  Whinmoor's replacements will take place next year. Looks like it'll be the last winter lit by SOX round here. (Unless I put one of mine out....)

Further to the PFI, some motorway news:


M62 J29-30 is having the central reservation modified with a solid median. The lighting is also being replaced and extended along that stretch.

Further down, M62 J22-21 is also having the same works. The columns in the central reservation are being removed and new ones being erected on the verges, which are condiserably brighter and closer together. I also feel the end is near for the MA60's at J21-20 as around 60% have failed and the roadworks will be progressing that way.

A1 Doncaster has also seen it's MA60's disappear for new verge columns. At J38, new brackets and lanterns have been fitted to the old columns just off the A1.

Further still, the M67 retains all it's SOX and most still work, though the roof mounted tunnel lanterns have almost completley failed. It's a treat driving down here. Parts of the M60 are semi and completley SOX lit which is also nostalgic.[/quote]



Alwoodley and Pudsey has SOX from what I remember, and they are the first places listed on the schedule... along with Harewood, which has a mixed bag including some WRTL Arcs. After Harewood is Wetherby... which has a fair amount of SOX too, so it looks like this will be the last year where I can cycle to wetherby in winter and be greeted by a yellow glow. I can't remember for sure, but there are some Iridiums there, and maybe even the odd residium that may get replaced.

Kirkstall is on there too... it was Kirkstall road that I knew had some of the really old Beta 5's installed (on roads just off it), so Kirkstall probably does have too. I'll have to find pics of these old B5's.



I'm going to see whats going to happen with the MA's along the B6114 heading from Rastrick to Elland, as im going to see whats going and whats geting chucked.



York has lost a fair amount of mercury stock recently. three to four weeks back, I noticed every single Mercury lantern in Poppleton had gone, along with a fair amount of SON too, with 42w PLT Urbis Opalos taking their place.

I was in Skelton today, and the same thing again... the entire village has been relit. Only one WRTL 2000 and a black topped Urbis K-Lux (the only one I know of in a residential setting in York) ddin't get replaced. Every other column now has an Opalo mounted to a post-top adaptor on the column. The old lights were Mercury thorn gamma 6's with and without china hats, and phosco P107's.



Is that Mercury estate by the A1237 now not Mercury lit?

UPDATE: Crossgates is the next target in the Leeds' PFI. We got a letter this morning saying works will shortly commence.

I might be able to get some lanterns (MI26's and Beta 5's of all ages) but it looks doubtfull. All the columns were removed today on Austhorpe Lane. They said they'd phone first...



This is going to sound funny, but which estate/area do you mean?

because from west to east along the A1237 you can see mercury lighting at:-
A19 roundabout
over the rail line between new earswick/haxby (looking either north or south)
Huntington/strensall roundabout

I'm thinking you may mean the last one on the list, as there are some 1970's houses right next to the A1237 shielded only by trees... and as far as I know, the mercury post-tops are still there.

The A64/A1237 junction at Copmanthorpe is now lit by Iridiums instead of MA90's/50's.
The other A64/A1237 junction (hopgrove) is now lit with what looks like zx3's (only seen at night) and the twin-arm MA60 installations have gone.

---

I went through Poppleton today and realised the 42w PL-T lanterns that replaced the mercuries have that distinctive "upside down airship" look to them - so they are Thorn Jet's.

And yes, York council has gone onto an energy efficiency drive... so pretty much every mercury lantern will eventually be replaced by a Jet. At least it's white-for-white, if it had been SON lanterns being installed then I would not be happy.
Wigginton, Haxby, and Strensall may be next on the list.

I'm hoping the mercury lanterns I can see from the back windows of the house stay hidden, being tucked away in the corner of a street away from the main roads in south huntington.

---

The post-top Phosco fluorescent lanterns at Malton bus station are still in use. I was there tonight and the more easterly of the two was running at least one tube, and the other one was out but there was a dim flickering from inside. I have photos but too tired to upload at the moment.



I wondered if they worked, now i know. Originally i though these were made by Eleco but no there made by Phosco.

I look forward seeing the pics Chris.



Those Phosco's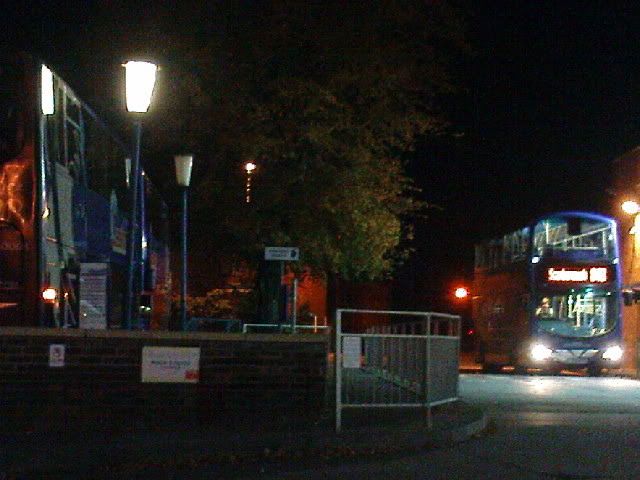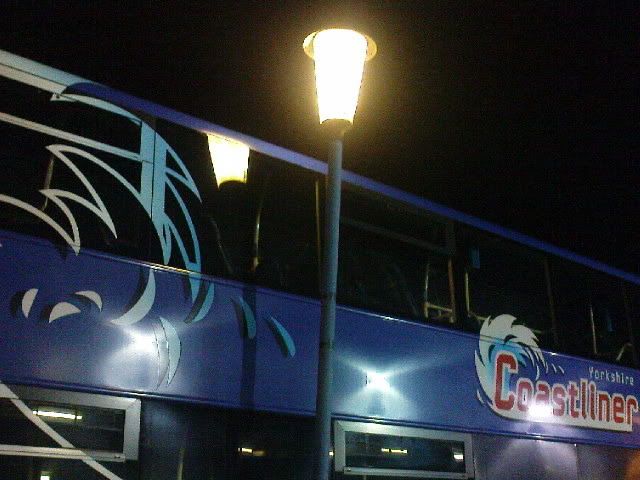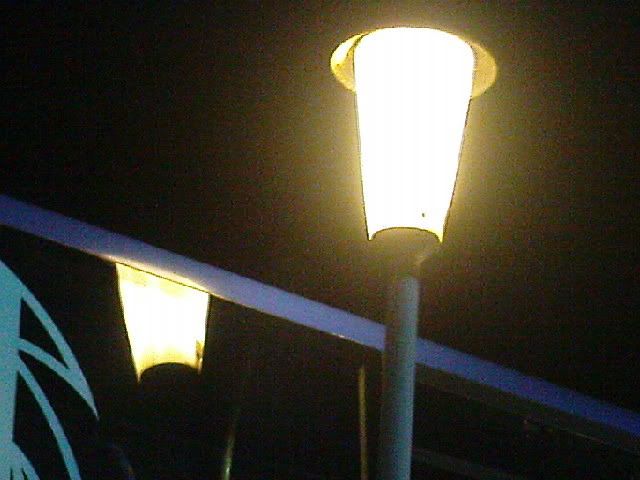 --
Wigginton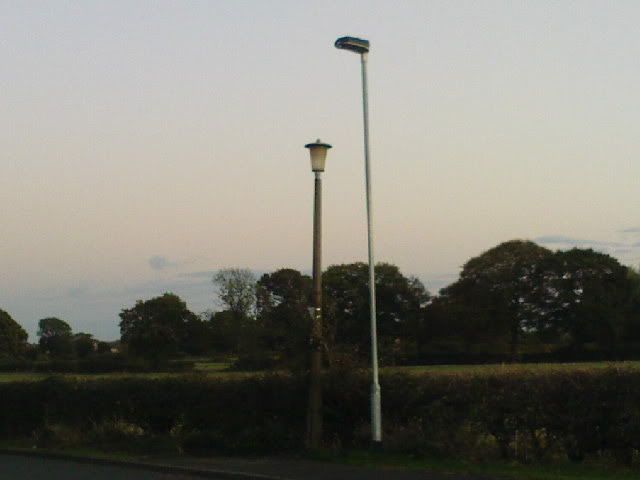 I don't know what's going on with photobucket, but I've had to enter these image URL's manually, because everytime I click the box with "direct link" and copy the URL in there, it scrambles it and gives me a completely different image!
for example, I copied the direct link for the above image (DSC04260) and it gave me this:
http://i65.photobucket.com/albums/h229/ ... 1356-1.jpg
--
Other York news,
A fair few of the Mecury Thorn Beta 4's on the Shipton Road have QSS replacements standing above them. As QSS's are the replacements, my thoughts are this is an earlier replacement whereby the old columns have been forgotten about. The road that runs alongside the Scarborough rail line from the river ouse has two cast iron columns and swan necks with QSS's above them in nightly service as well.
Check this out: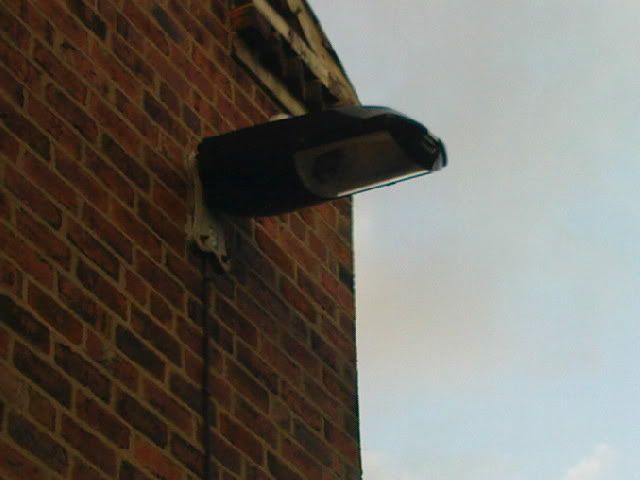 I had to take the top one twice, because even though it was only on the LCD screen on my phone, I could see it was bluured a bit. I like the second image though, where the light is reflected off the side of the bus.





Nice photos there Chris....Today sees the new Columns erected round my street and general area.

To be honest, i'm looking forward to seeing if the new lights improve my CCTV picture.



If you get Cosmo lighting then your CCTV picture will improve - if you get SON it won't (well, not by any greatly noticeable standard).

I was on the A63 leaving Hull over the weekend, and happened to pass the old Albert Dock... some of you will know that Mikey pictured some old relics leftover there, and one stanton with GEC Clairmain is clearly visible from the A63.... and probably may be too from the adjacent rail line depending on how the trees lien, because from the train you can see the flarestack of the Immingham oil refinery.

York news is that there is proposed solar powered LED lighting to be trialled on a shared offroad pathway that runs between New Earswick and the main deliveries entrance (Northgate) of Nestle just after the level crossing on the B1363. I may be off that way tomorrow, and I may go to the depot too and see if anything has developed in the last three weeks.



We're getting Iridiums. Guessing 45w cosmo like the one I got for Nick.

Seems the lads planting them are doing the easy ones first. They're doing all the verge and embankment ones first.



So not that bright so i guess your lucky! not to be getting 60w or more



To be honest, i'm not sure of the wattage. I'll ask at southern electric tomorrow.

They are bright so could be 60w.

[quote=mazeteam]The AMEY contract for York's streetlighting expires in March, I have now found out. Even if there is an extension of the contract (1-2 years) the lease on the depot cannot continue, so people will be moved over to the council depot in James Street - which would be good for me as it's only a third of the distance as it is to get to Poppleton.

Anyhow, during the next 6 months I well imagine that all the thorn jets in the depot will have to be installed, which may mean a rather rapid diminishment of mercury stock. Some more mercury has been replaced in the last 2-3 weeks, as I spotted some just off the A19 at Clifton Green have gone (though I think one from there may be gone but not forgotten). Also, Government House Road beside the river ouse is now lit by Jets when it used to be lit by Heritage Lighting - strange.[/quote]



I have noticed something odd with the replacement scheme round here.

The Lanterns are planted in a very unusual pattern compared to the old ones. In our front street, they are all on one side and not staggered. Nearby areas are similar in placement too, with less replacements than what's there already.



Chris, those Z5590's in York city centre near to the Stonebow. Are these still in place?

Also anything available at the depot such as a Z5590, Prefects, Avons and a MA90.

Im currently watching a column in Brighouse near to the canal side, as its slightly bent and has been rewelded im guessing that they has been some strain on this coulmn before it snapped. Also another Alpha 3 (Thorns version of the turtle) has bitten the dust, its been replaced by a boxy Thorn 79.

Not that long now till i get the 20 odd festive lights from the council, ill see if i can also get a lantern at the same time.



When I went there, the only lanterns set aside were those that I have pictured. I have put in a word about the Beta 4's on Shipton Road, and have said I'm generally interested in SOX too.

The Z5590's in the Hungate area are still there, but unlit as electricity has been cut due to the building works going on.

Crichton Avenue has now been totally relit with Holophane QSM's running CDM-TT lamps. It looks miles better in white light, especially considering it's chav central. It has meant some WRTL 2000's have been taken down, and at the depot there were roughly 20 of them all in a row... I personally said that I already have one of them... but that doesn't mean somebody else can't come along and ask for one. The guy who had purposefully set aside the GEC post tops showed up while I was there, and I gave him some money for "hiding" these lights so they didn't get skipped - the other guys will be getting some goodies from that apparently, and hopefully it puts things in good standing for the future.



I've just come back from Mike's and i've been up the A1.

I can say that J38 is now ''Sonified'' but the SOX floods still remain under the road above. The rest of the old SOX (apart from the layby section) still remains.

Also seen 2 Phosco P222's in the Shell Garage, they are unlit.



I think the new SON lanterns are Sapphires. I saw them a few weeks ago when the old columns were still up and running, and half the new ones were dayburning.

The majority of SOX on the mainline A1 north of the junction is still intact, thankfully.

I know one of the garages (The texaco one just after you go over the leeds-doncaster train line near Adwick) has one or two Thorn Gamma 4's in use, but I've never seena shell garage with P222's on it...  


[quote=Stelmer"]I think they're P222's. If not, then they're a close relative of them.

Northbound, there's a Texaco then Little Chef/Shell garage. (Not sure on Little Chef but there's not just another Petrol Station there.)

---

New Iridiums are now 80% working round here.

To say it's odd is an understatement. There's massive dark spots as the new lights don't penetrate like SOX does. There's sharp contrasts where the cars block the light. All in all, they are bad and I doubt allot of people will like them.

I'll also miss them when they remove the old columns too. I've got plenty of lights at the moment though lol....

Another issue is they've left the back street 50% unlit. Hope no-one tries to steal my bike tonight cos nobody will see them.[/quote]



Sounds like they've put the new lanterns and columns at the same spacings as the old columns. It's not very good for cutoff lanterns, and even adding a couple of meters to column height doesn't really help matters - not for SON anyway.

[quote=sotonsteve]Having said that, if the M25 SOX is anything to go by, it is spaced closer together than necessary anyway. The A27 Havant Bypass used to be lit with MA60s and GR200s at larger spacings than you normally see, but uniformity was never an issue. Just British Standards overkill at work again.[/quote]